Chromium / Leather Chemicals
Sodium Sulphide - Red Flakes
Specification Sheet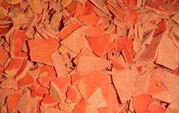 | | |
| --- | --- |
| Product Name: | Sodium Sulphide (Sodium Sulfide) |
| Molecular Formula: | Na2S |
| CAS No.: | 1313-82-2 |
| Molecular Weight | 78.04 |
| Purity | 60% |
| Model Number(Fe) | 1500ppm |
| Appearance | Red Flakes |
| Port | All Indian Ports |
| Packing | 25 kg bags as per specification |
| Qty Per 20 Fcl | 25 MT (1000 bags) Max |
Product Specifications
| | |
| --- | --- |
| Na2S(%) | 60.0 min |
| Na2CO3(%) | 5.0 max |
| Water Insoluble(%) | 0.4 max |
| Fe(%) | 0.15 max |
| Application | Paper and pulp; textile; floatation; leather; chemical; rubber; dyes and detergent etc. |
Sodium Sulphide - Yellow Flakes
Specification Sheet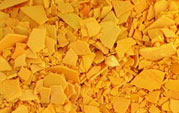 | | |
| --- | --- |
| Description | Sodium Sulphide Yellow Flakes |
| Chemical Name | Na2S |
| Purity | 60% Min. |
| FE | 30 ppm Max. |
| Water Insoluble | 0.2% Max. |
Applications
In tanneries for removing hair from hides and skins.
In pharmaceutical industries as a selective and cost-efficient reducing agent.
For obtaining Sulphur Black Dyes.
In Ore floatation.
As analytical reagent.
In Engraving.
In viscose Rayon Industry for removing Sulphur.
In the production of Heavy water used for Atomic Power Plants.
To remove heavy metals from waste waters in many industries.
In the craft wood-pulping process, it is used in synthetic cooking liquor.
In the manufacture of lubricating oils.
In the production of polysulphide elastomers.